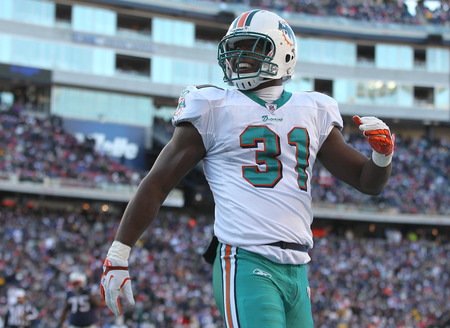 The third and most important preseason game is tomorrow, and the Dolphins will have many choices to make as they take one final glance at all the players in camp and decide who stays and who goes before the regular season opener at Houston week 1.  Here is a glimpse at how camp is going before major changes begin taking form.

MDD Staff Writer:  Chad Pullen
2013 Draft needs taking shape
Anyone who follows the Dolphins knows by now that the Dolphins will be in desperate need of talent at the wide receiver position next year.  (technically, they need that talent this year, but it may be too late to do anything about that).  So next year will have to do.
It's now also becoming obvious that the Dolphins may need to invest a little more on their interior offensive line, namely the right guard position as the turnstile approach of plugging in body after body is not working as of yet.  And with the retirement of Eric Steinbach, that need just got even more pressing.  John Jerry could fill the spot, but has proven so untrustworthy, it's hard to feel comfortable that he would be able to man the position.  The third position will be either or both safety spot(s).  The Dolphins will try to stop gap the position for this season, but going forward they will need to infuse some talent into the position. Sadly, 2 of the 3 positions of need are not spots that GM Jeff Ireland usually addresses in the draft, 2013 may need to be a mold breaking draft in order for the team to deepen the roster.
Dolphin Tight Ends causing more and more concern
While it's easy to identify three main needs for next April's draft, one unexpected need could be the tight end spot.  With the late season emergence of Charles Clay last year, and the third round selection of Michael Egnew in the 2012 draft, one would think that the TE position in Miami would be set for a few years to come.
So far, that has not been the case.  If the Dolphins don't start getting some production from that spot soon, sadly, the Phins could wind up with yet another hole to fill at the expense of a draft pick.  There is still time, and hope, but Egnew needs to get going immediately and start to make a difference.  Miami envisioned big things from Egnew when they selected him in the third round, it would be a huge cost to lose a pick like that if he can't produce to the value of that selection.  Not just a pick in 2012, but maybe another pick in 2013 as well.  Picks Miami certainly cannot afford to spare.
Did Miami dodge a bullet?
Many Dolphin fans wanted the team to sign QB Matt Flynn from coach Philbin's former team, the Green Bay Packers, when Philbin did not make any sort of call to have Flynn brought in, many took that as a sign that Philbin may not have total and complete faith in Flynn to lead a franchise.  When Seattle made the move for Flynn, there were some who were angered that the Dolphins were not trying hard enough to land a QB of the future.
It's getting clearer by the minute, as first round pick Ryan Tannehill has been named the opening day starter, and Matt Flynn has been surpassed on the depth chart in Seattle, that Ireland and Philbin may have made the right call.  Those that questioned Ireland and Philbin in tandem, may need to send some apology tweets their direction.  The fact that a 5'10" rookie could start day one over Flynn speaks a lot about Flynn, and who would know better than Joe Philbin.  It's a shame that Hard Knocks was not on sight during that time frame, it would be nice to hear how those conversations truly went during the Spring.