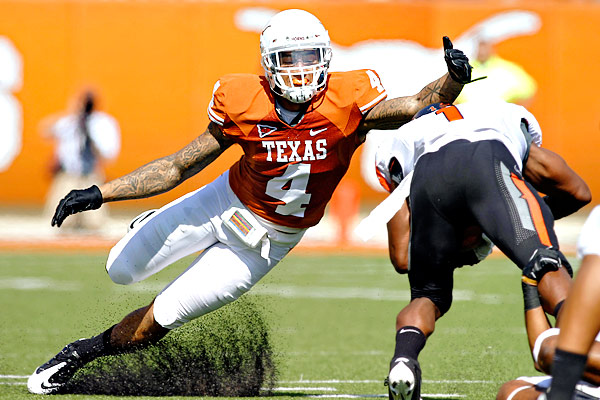 While it's still too early for a full mock draft based on the fact that it's unclear which juniors will be coming out as well as it being unclear which teams will be drafting where.
Still, based on the fact that (despite optimism) the Dolphins won't be making the playoffs, it can't hurt to look ahead to how this young and developing team can take the next step with (before trades/compensatory picks) 10 draft picks in the 2013 draft.
Disregarding where exactly the Dolphins are picking and being liberal in where I feel these players are going (some would be a minor "surprise" if they fell to their rounds), here's who the Dolphins could be landing in the 2013 draft.
1. Kenny Vaccaro, S, Texas
While Chris Clemons has racked up tackles this year, this defense needs a safety that can be more reactionary in coverage as well as (most importantly) work towards covering the slot receivers and tight ends that New England (and soon to be other teams) use to dominant offensively. Vaccarro's role situationally as a slot/tight end coverage player can provide enough value just based on that alone that this team can, if need be, ease him into wherever they want to play him on defense.
2. Aaron Dobson, WR, Marshall
It's obvious that, regardless of how the Dolphins approach free agency, they will need serious upgrades at receiver. Really, outside of Davone Bess and Brian Hartline, this team doesn't feature any receivers that are worth keeping around for sure next year. Dobson is a fantastic athlete that, depending on how many junior receivers declare, could be a mid to late first rounder. If the Dolphins can grab him, he could become that James Jones type receiver that Joe Philbin could utilize long term opposite Brian Hartline and let Davone Bess kick inside in the slot more consistently.
2. Michael Buchanan, DE, Illinois
While Buchanan could go even mid to late first round based on his raw natural talent and his likely ability to test well, as of now, he may be available in the early to mid-second round, and the Dolphins should be hungry to pick him up. A fantastic athlete who holds his ground well in the run game but has the upside to become a dominating outside edge rusher, his size and physicality as a rusher should complement Cam Wake well while also holding ground in run support about as well as the out of place Jared Odrick.
3. Jordan Poyer, CB, Oregon State
A big reason for the Oregon State's defensive success this year (though he'll have some big tests in the coming week), Poyer has developed into a legitimate mid to late second round pick thanks to the need for cornerbacks in the NFL draft. However, if he can slip to the 3rd round, the Dolphins could be getting a fringe starter (and likely long term option) to hopefully challenge Richard Marshall for his job opposite Sean Smith as well as add much needed depth behind Smith, Marshall, and Nolan Carroll.
3. DeVonte Christopher, WR, Utah
After being nearly shut down by Jordan Poyer in their match-up last week, Christopher may not be as looked at as a top receiver prospect. But his routes, defined footwork as moving upfield, and reliable hands across the field are perfect for the Dolphins downfield working, quick reaction system. While he'll only be a 4th receiver for this team after Hartline/Bess/Dobson to start, the depth is much needed for the complex Philbin system.
4. Jamie Collins, OLB, Southern Miss
This may be a bit of a luxury pick for a team that is trying to become a contender next year, but his versatility and raw upside as a prospect is too good to pass up on, and after workouts, he may be going much higher. Still, Collins, who is a defensive back turned linebacker turned defensive linemen has the raw upside and flexibility to develop how we want him to that can provide pass rushing help as well as situational linebacker help in the future.
5. Terrence Armstead, OT/OG, Arkansas Pine-Bluff
One of the more impressive small schoolers I've seen on film, Armstead will likely be viewed as a offensive tackle for most teams. But looking for a potential impact blocker with starter upside here in the 5th round is asking a lot. The 6'5, 305 blocker moves as well as any offensive "tackle" in the draft laterally, upfield, and in pulling situations. He'll be a prospect that becomes a well-known "small schoolers" after his workouts, and he's a future NFL starter for some team if he continues to progress.
6. Collin Klien, QB, Kansas State
Certainly not a glaring need with Ryan Tannehill as the starter long term, this team still lacks a backup quarterback for the future (assuming you don't feel Pat Devlin is that guy for sure). Adding Klein is a luxury pick, but really, outside of receiver, defensive back, and guard, this team doesn't have many glaring needs. Adding Klien can give this team a unique force on offense as well as challenge Pat Devlin for the backup job for the future.
7. Greg Reid, CB, Valdosta State
The former Florida State cornerback was set to have a redemption season at Valdosta State before unfortunately suffering a season ending knee injury before the season even started. Possibily forgotten about in some areas, he was one of the country's best returners as well as being a solid starter in the ACC. With Smith, Marshall, Carroll and now Poyer, adding Reid as a 5th cornerback/special teamer would be wise, considering their defensive backs have lacked depth for a few years now.
7. Xavier Boyce, WR, Norfolk State
Late in the 7th round, you can almost expect your target to be either a late round surprise or on your practice squad for a season. The former Virginia Tech transfer has fantastic upside, but may not be NFL worthy just yet. And with Bess and Hartline along with Dobson and Christopher, Boyce would be battling with only a handful of worthy NFL players if he does impress. Either way, late round picks should be upside values or special team aces. Boyce certainly fits in the latter, and could become a late round steal for this team.