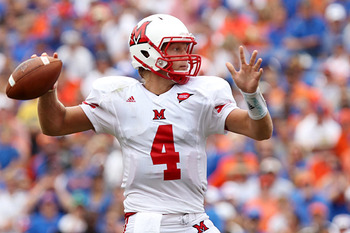 Zac Dysert was the man every scout wanted to see going into this matchup. The Miami (OH) Red Hawks have nearly no NFL talent at anywhere other than the quarterback position and scouts were anxious to see how Dysert would matchup against a Big East defense. Dysert struggled but still showed some upside.
Walter Stewart, Dominique Battle and Drew Frey weren't going to allow Dysert to come in and rack up the points on this Bearcat defense. Miami (OH) came out of the gate strong but then Cincinnati forced turnovers on three straight drives and the team with more NFL talent came out on top.
MDD Staff Scout: Alex Farnworth
Miami (OH)
#4 QB Zac Dysert
-Lines up in empty sets throughout most of the game
-Very strong arm, tight spiral, ball tends to dip a lot
-Likes to make a lot of unorthodox throws, extend the plays, very unconventional
-Early in the game surveyed the field quickly, scrambled to the first down marker if he didn't like any of his reads
-Looks very comfortable in a three-step drop, throws a bullet on a quick slant for the touchdown to finish the first drive
-Comes out into second drive making pre-snap reads, altering the play
-Knows when he wants to run, tucks the ball immediately, great security
-Displays an excellent fake on the draw, acts like he's throwing a quick pass then sticks the ball in the tailback's gut
-Makes a bad throw on a five-yard-out, not a strong enough throw to the sidelines, footwork was the reasoning for bad throw; normally has the strength complete that pass–Isn't flustered after throwing a pick-six, comes out and delivers on a slant
-Refuses to take a sack, either finds a receiver or throws it out of bounds
-Throws an ill-advised pass over the middle, intercepted for the second time on the third drive
-Shows really sloppy footwork, not stepping into this throws, doesn't have choppy feet when reading through progressions
-Keeps his shoulders squared while rolling out, keeps eyes down the field
-Has a tendency to stare down receivers, a lot of deep balls were tipped
-Executes a pooch-punt to the opponent's 2-yard line, opens up future 4th down attempts
-With 2:09 left in the first half, scrambles to right, drifts back to pocket and throws an off-balance strike (shoulders squared the whole time) for the touchdown in the back of the end zone
-Takes shotgun snap, looks at first receiver then runs it up the middle for the 2-point conversion, had receivers open on the play
-Struggling to get into a rhythm, midway through the third quarter
-Throws his third interception at the end of the third quarter, careless pass over the middle of the field, comes back and makes the tackle
-Taken out with 6 minutes left in the game, no need to chance injury in a blowout loss
Overview: Quarterback Zac Dysert has drawn a lot of comparisons to another former Red Hawk, Ben Roethlisberger, and rightfully so. He is a gritty quarterback who shows the ability to take hits, survive them, and make acrobatic throws that wow the crowd. Dysert is a dynamic player but still needs to show improvement in order to be successful at the next level. The senior Red Hawk will need to show that: he is comfortable under center, that he can read through progressions and he most importantly needs to fix his footwork (needs to step into throws to get extra zip on the ball).  No one is questioning Dysert's strength, talent or ability to put the team on his back but he will need to fine-tune his mechanics by the NFL Combine. Dysert looks to be a late third-round pick right now and could be a very good starter in the NFL if he is groomed correctly and sits under a veteran; 2 years would be ideal.
Cincinnati
#54 DE/OLB Walter Stewart
-Lining up as an outside-backer
-Taking one step in, then dropping into a zone coverage
-Standing up before the snap, covered the flats against the empty sets
-Doesn't stand on the line like an edge rusher, lines up over the slot receiver, confusing the opposing quarterback
-Constantly communicating with his teammates, makes adjustments
-Runs across the field to tackle the scrambling quarterback
-Gets knocked with an off-setting unnecessary roughness penalty, needs to stay composed
-Uses hands a lot in coverage, needs to be careful with how physical he is with receivers
-Exhibits great pursuit and a fantastic motor, eyes light up when the quarterback leaves the pocket
-Goes out and chases down receivers after a completion is made
Overview: Coach Jones said before the game that Walter Stewart is the best leader he has ever had. Stewart shone against Miami (OH) when he displayed a different part to his game, and that was zone coverage. You could tell that Stewart was a little raw but he didn't allow the quick slants to go his way and he was still going all over the field to make tackles. Stewart will most likely be a 3-4 OLB in the NFL because of his length (6'4) and pass-rushing abilities. It is looking like a third round pick as of right now.
#9 CB Dominique Battle
-Thick corner, solid build
-Lining up 8-10 yards off of the receiver, a ton of cushion
-Playing a zone coverage, backpedaling at every snap
-Not allowing any big plays, makes everything happen in front of him
-Ineffective in the run game via playing so deep, tackle is made by the time he gets to the ball
-Tight coverage on a 7-yard slant route, allows the catch but wraps up and viciously tries to strip the ball
-Came very close to intercepting tipped balls, seems to be in the right spot at the right time
-Trying to make the big hit, wants to know the ball loose, still manages to wrap his arms around the receivers
Overview: Dominique Battle had a small sample size in the Miami (OH) matchups because of their quick-passing attack. It was good to see Battle not allow any big plays and to show the willingness to step up and make tackles the moment the receiver got his hands on the ball. Not exactly a ball-hawk because he missed some opportunities, but Battle was around a lot of deflections and could work on his turnover skills. Battle hasn't shown the glamour or flash of a top corner back but he could be a sneaky and valuable 5th round pick.
#26 SS Drew Frey
-Played very deep against this high-octane offense
-Plays center-fielder when the free safety is in double coverage
-Always seems to be around the ball carrier
-Very active on gang tackles
-Sits in a soft coverage throughout most of the game
-Gets caught creeping up late in the third quarter, beat on a 14 yard throw over his head
-When there is only one person in his zone he doesn't play them tight, very loose coverage all night long
Overview: Safety Drew Frey looked shaky at times throughout this matchup, he got caught "guessing" too much. Frey was playing deep early on but then started to creep up as he saw that Dysert was only throwing short passes; Dysert then exploited the coverage an threw to the areas that Frey should have been. Frey is not built like a safety, he will either need bulk up or gain speed and move to free safety. Frey did step up and help make plays in the run game [on the few plays Miami (OH) ran the ball], but he still needs to learn the game; he is looking like a late round pick right now.
#7 WR Kenbrell Thompkins
-Gets first reception with 1 minute left in the first quarter, 7-yard catch on a curl
-Runs the curl at 100% speed, hard cut throws the cornerback off-balance
-Lines up as inside receiver on 5 WR sets, utilizes his size and strength
-Used as an extra protect man on the punt formation
-Feared by the cornerbacks when he goes out to block, repeatedly opens up the outside lanes for the QB to run
-Sent out on a lot of deep routes on play actions
Overview: Thompkins was not used as much in this matchup as I would have thought. The Bearcats sent Thompkins out on a lot of deep routes but didn't throw deep at all in this game. I only counted three targets and one reception for Thompkins against a weak Red Hawk secondary. At 6'1, 190 lbs., Thompkins is an effective blocker, but NFL scouts are looking for playmakers at WR, not blockers. The Miami native will have to have more games like he did against Virginia Tech (7 catches, 134 yards) if he wants to get drafted.