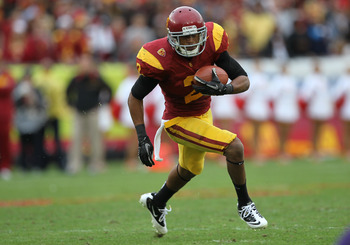 In what is a (very) pleasant surprise, the Dolphins aren't in "look to the future" mode and are just one game out of the 6th seed in the AFC. While it'll take at least one win over the Patriots and likely winning out the rest of their games besides New England, there's still a shot these counted-out and young Dolphins fight to the final game to make the post-season.
However, being in the middle of the first round, the Dolphins will have lots of options to build on their already competitive team. Receiver and defensive back are the main needs, but getting value if possible as well as adding more to the offensive and defensive line are all options for the Dolphins.
1. Bjoern Werner, DE, Florida State*
In my opinion, the top overall prospect in the upcoming draft is Bjoern Werner, meaning the Dolphins have little chance, if any, of getting Werner. Werner is the awesome combination of lower body strength and hand force allows him to be a power rusher, yet also flashes the bend to get to the outside and be a complete defensive end.  He'd be a perfect complement to Cam Wake, and worth trading up 7-10 spots for if possible.
2. Manti Te'o, LB, Notre Dame
Linebacker isn't a major need, and Karlos Dansby has been solid on the inside this year. But if Manti Te'o is around where the Dolphins are selecting, he needs to be considered. After what was arguably the best defensive college season in the last 15-20 years, Te'o's shown he's a complete linebacker, capable of playing all three spots if need be, as well as a leader and a student of the game. The perfect defensive leader, he could make this front seven unit the best and most dynamic in the NFL.
3. Robert Woods, WR, USC*
This is where the Dolphins possible selection could lay. Getting a receiver this off-season is objective number one, and they'll have plenty of options in free agency and the draft. The fact that it's unlikely any receivers go in the Top 10, the Dolphins should have their pick of some of the top receiving talents, and that group is headlined by Robert Woods. The fantastic body control, balance and athletic receiver would be fantastic in Joe Philbin's system and could quickly emerge in the short-mid routes and running after the catch. As of right now, Woods (if he declares) is the dream pick for Miami.
4. Keenan Allen, WR, California*
Not far behind Woods in terms of talent and upside, Allen would certainly be a welcoming consolation prize for the Dolphins if Woods is gone/doesn't declare. Allen has better size and looks more the part of a James Jones (a guy that Philbin helped develop in Green Bay) and could be the best receiver in this class, and better than the 2012 class as well. If he can comeback from his injury (and declare, as expected), he'll be taken right around where the Dolphins are selecting as of now, if not earlier.
5. Dee Milliner, CB, Alabama*
If Woods and Allen are gone or the team decides to go the free agent route for a receiver (Dwayne Bowe?), looking for defensive back help could be next. The team isn't/shouldn't be solid on Richard Marshall, and if they can get a player the caliber of Dee Milliner, they should pounce at the chance. He can play in both man and zone coverage and has taken over very nicely for Dre Kirkpatrick. He may go before their pick, however, as he is likely the top rated CB by most teams.
6. Kenny Vaccaro, S, Texas
Staying with the defensive back need, the Dolphins should strongly look to replace Chris Clemons and/or Reshad Jones, as neither are good enough starters to slow the bleeding that has been this Dolphins secondary. Vaccaro doesn't need to come in immediately and replace one of the two starters, but could provide instant value in covering tight ends and slot receivers, something he's done well in college at. Let's not forget, the Dolphins need to get past Rob Gronkowski, Aaron Hernandez, and Wes Welker to eventually win the AFC East division.
7. CJ Mosley, OLB, Alabama*
Similar to Milliner, this pick doesn't fill a gapping need and he may not be here at this point, but CJ Mosley could make his own case for the draft's best eligible linebacker, even battling with Manti Te'o. He's a three down linebacker who drops into coverage as well as any linebacker in this class, but also finishes tackles in the box and on the edge. He'd be an instant upgrade over Koi Misi, and could play Mike or Sam in this defense as well.
8. Cordarrelle Patterson, WR, Tennessee*
With Derek Dooley gone (and maybe even if he didn't leave), the Tennessee juniors have a lot to think about. But from all I've heard/seen reported, Patterson is more likely to be gone than Justin Hunter, and even so, he's a better fit for the Dolphins offense. Patterson gets separation in the short-mid area, uses his length well, and can explode after the catch to pick up chunks of yards at the 2nd-3rd level. He wouldn't be my choice in the middle of round one, but they may need to take him there, as he likely won't last past the mid 20s.
9. Chance Warmack, OG, Alabama
As has been the case for all the Alabama players on this list, this is more of a "value" pick than actually filling a need. But if they don't need a receiver and feel safe with their linebackers, getting maybe the drafts most immediately impactful and surefire starter in Warmack should be a huge benefit. The offensive line has started to get back in gear this year, but replacing John Jerry is a must in the future, and Warmack can give this team three Top 20 offensive linemen in the NFL in due time. If they address receiver in free agency, securing Tannehill long term should be the next primary goal. Warmack does just that.
10. Sam Montgomery, DE, LSU*
I'd like to hope it doesn't come down to the Dolphins drafting just the "best player available" as this team still has a few bigger needs than adding to it's already profient defensive line. Montgomery has been solid and even special at times this year, but he's much more of a mid-late first rounder than a Top 10 pick like he was projected in the pre-season. I don't like Jared Odrick all that much at RDE (even though he played well against the Seahawks), and Montgomery is an upgrade. I'd like to keep Oliver Vernon as a 3rd DE and insurance in case Wake/new DE goes down.