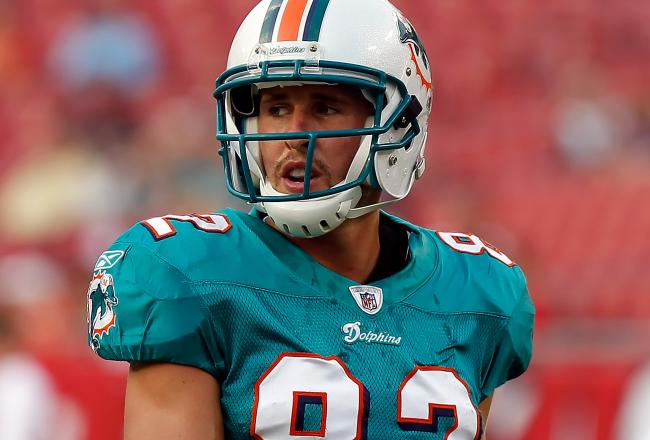 Miami had a huge letdown last week in a 37-3 drubbing at home to Tennessee.  The Dolphins and their fans were thinking playoffs just two weeks ago before they faced the Colts, and after back to back losses Miami will try to get back on track in a short week Thursday nighter vs. division foe Buffalo.  If Miami can find a way to win on the road in a short week, they will be at 5-5 with a 10 day gap between games giving them a little extra time to heal up and prepare for a home date against the Seattle Seahawks.
With Ben Rothlisberger banged up in Pittsburgh, the sixth and final playoff spot is still in play and Miami can find a way to sneak in despite a tough late season schedule.  All of this is mute however if rookie head coach Joe Philbin and rookie QB Ryan Tannehill can't get the ship righted in time for a winnable game this week.  Miami did not respond well to the Colts loss at all last week, now they will need to change something up to make up for the horrific loss to the Titans. 
MDD Staff Writer:  Chad Pullen
Fantasy Advice:
Reggie Bush  RB
Miami was expected to have a big game offensively vs. the Titans but after Bush fumbled early in the first quarter and was subsequently benched the rest of the half, the offense lost its ability to function in both the run and pass game.  Bush was never able to get on track and the Titans pinned their ears and came after Tannehill the rest of the game.  The best remedy for Bush to get back on track is to face the Buffalo defense that has been just as bad as any defense in the league this year.  Reggie is a stand up player, and a leader on the team, he should look to have a big game this week to make everyone forget the Tennessee game and redeem himself.
Daniel Thomas  RB
Even if Bush has a big game against Buffalo, with a short week the Dolphins can't really give him the ball 25+ times and hope he stays healthy that way.  So Thomas figures to get plenty of touches and if the Bills defense plays as bad as it has all season, then both backs could put up some decent numbers this week.  Thomas also has the added benefit of getting more of the goalline carries as Reggie typically gets a lot of his touchdowns from distance.  Chris Johnson and Amhad Bradshaw owners could be looking for an available back that can get some numbers; Thomas should qualify under both instances.
Brian Hartline  WR
Hartline may not have a big game off deep balls or a ton of passes from Tannehill, but rather the fact that Tannehill may need to throw the ball quicker than usual with Mario Williams lining up opposite rookie OT Jonathan Martin.  Tannehill and Hartline have had the best chemistry this year in the passing game and quick slants and quick outs may be the route they choose.  We could also see a couple of fade routes for Brian if the corners play up and are in one on one coverage.
Injuries:
OLB Koa Misi  -  Calf
Limited at first, but practiced fully today and should be available on a short week.  Misi will be needed facing the dynamic runner in CJ Spiller who will likely get 25+ touches with Fred Jackson out due to a concussion.
WR Jabar Gaffney  -  Knee
Practiced fully early in the week but was then limited by Tuesday's practice.  Gaffney has been looked to as a third option for Miami and desperately needed at that.  If he is not able to go, Marlon Moore should see an increase in snaps and was starting to play well in the games before Gaffney was activated.
TE Jeron Mastrud  -  Hamstring
Limited so far this week for a hamstring, he is used primarily on special teams and short yardage blocking situations.  It would be interesting if he can't go if the Dolphins would then activate third round TE Michael Egnew who has not been on the active 53 man roster at all this season.
Draft:
With the draft a little over six months away and still much to be determined here is a list of players that could be on the Miami radar even if they may not be available to Miami when the actual draft rolls around.  Keep in mind that there is a lot of time for players to move up or down on draft boards and this is no guarantee that Miami will pursue them, just an idea of what the first three rounds of the draft could look like in terms of players the Dolphins are searching for to strengthen their young core.  The Dolphins figure to have five of the first 85 or so picks in the draft giving them multiple chances at adding starting quality talent.  If they manage to land a couple of these names, Miami should be in good shape for having a quality draft.
DE:
Bjoern Werner, Florida State* (1st)
Dion Jordan, Oregon (1st)
Alex Okafor, Texas (1st)
Michael Buchanon, Illinois (2nd)
Devin Taylor, South Carolina (4th)
CB:
Johnathan Banks, Mississippi State (1st)
Xavier Rhodes, Florida State* (2nd)
Jordan Poyer, Oregon State (2nd)
Desmond Trufant, Washington (2nd)
Johnny Adams, Michigan State (2nd)
Micah Hyde, Iowa (3rd)
Brandon McGee, Miami (4th)

WR:
Robert Woods, USC* (1st)
Cobi Hamilton, Arkansas (1st)
Justin Hunter, Tennessee* (1st)
Keenan Allen, Cal* (1st)
Terrance Williams, Baylor (2nd)
Da'Rick Rogers, Tennessee Tech* (3rd)
Ryan Swope, Texas A&M (3rd)
Marcus Davis, Virginia Tech (4th)
Marquess Wilson, Washington State* (4th)