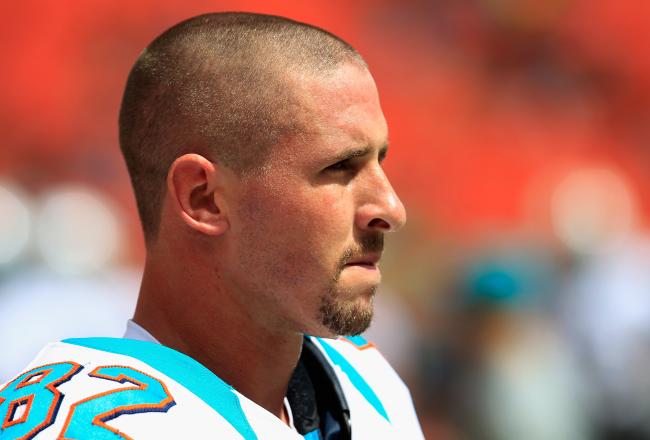 With CB Richard Marshall still on the shelf with his back issue, the Dolphin secondary was torched and Miami has gone out on the free agent market to add veteran Brian McCann to the roster while cutting CB DeAndre Pressley.   McCann is 5-11, 185 and also plays special teams including returning kicks if needed.
He shouldn't be asked to do that in Miami with Marcus Thigpen doing well, but in case of injury it is something he can do.  He started his career in Dallas with stops in Oakland and Baltimore also on his resume.  McCann looks to be thrown into the fire right away as the Dolphins have two games in the next 8 days and Marshall will be sidelined for both. 
MDD Staff Writer:  Chad Pullen
Fantasy Advice:
Ryan Tannehill QB
Tannehill is about to face the worst pass defense through nine weeks that there is in the NFL statistically.  He may not have as good a game as Andrew Luck just had against Miami, but he should be in range for a 300 yard 2 touchdown day if the Miami coaches like their matchups.  Tennessee also sports a poor run defense, so Miami may be able to move the ball all day long and may not even need Tannehill to throw it around that much, so I'll keep my projections low at 300/2.  If Miami decides to open it up then we could see Tannehill approach 350 and 3 TD's.
Brian Hartline  WR
Hartline has had a couple of good games vs the Titans in his career and figures to have another one this weekend.  Hartline broke 100 yards again last week and for the third time this season.   He and Tannehill have shown to be on the same page all season long and with Tannehill likely having a big game, Hartline figures to benefit from it greatly.  After a really fast start Hartline has cooled off a bit lately, he may be sitting on your bench, if you have a receiver on bye this week, he's a solid option.
Reggie Bush  RB
Bush is not going to lead the league in rushing this season like he had hoped.  But he did finish the 2011 season in terrific fashion and will look to do it again this year.  He did have an electrifying touchdown run in the second quarter vs. the Colts but did not break the 50 yard barrier.  He stands a good chance the next two weeks of rushing for quite a few yards as he will face two of the worst statistical defenses in the league against the run.   If Tannehill starts the game out well and forces the Titans to unstack the box, Bush could find lanes in the second half and gain chunks of yards.  75 yards and a score shouldn't be too far out of range this week.
Injuries:
CB Richard Marshall – Back
The only player that isn't participating in practice fully is Marshall and it won't be just this week either.  Miami is already preparing to play next week on a short week without Marshall as well.  The hope was then be for Marshall and the rest of the Dolphins to get a few extra days off after the Thursday game to be ready for the toughest part of their schedule.  However, with Marshall now placed on Injured reserve, they'll need others to step up at the cornerback spot.
Draft:
Sort of painful on Saturday to see several college receivers have tremendous games around the nation and wet the appetite for Dolphin fans clamoring for a big time threat in the passing game next April only to watch in horror the next afternoon as Andrew Luck reminded everybody that it is in fact the cornerback position that may need the most attention in the upcoming draft.  The Dolphin secondary was shredded all game long by the rookie QB and while not all fault can be placed on them, it's clear they will need to address the secondary early.
Luckily for Miami there are two ways they can do that and it's not just drafting a CB early on.  If Cameron Wake had a little more help in the pass rush department, the secondary would not have had to hold on for as long and Luck may not have had the time to burn them quite as much.  Miami does have a young pass rusher that they hope will develop in 2011 third rounder Olivier Vernon, if he manages to improve as the season goes along, then pass rush will be a little less worrisome and corner may in fact become the first priority.  Either way, it appears likely that wide receiver may get pushed back to the third round if Jeff Ireland decides to quickly fix the defense and make sure it stays at an elite level and possibly even improves with added help at DE and CB.