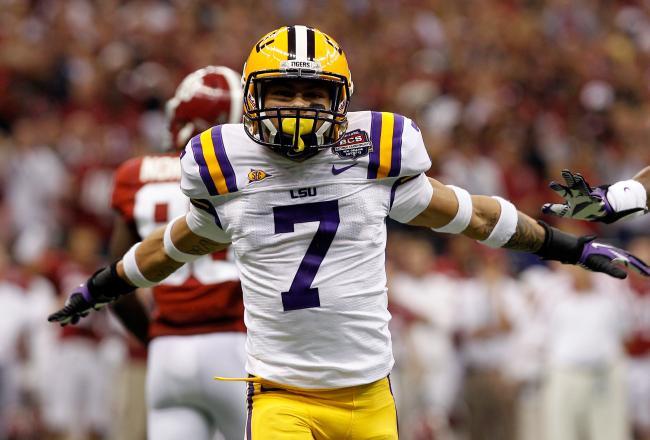 Former LSU defensive back Tyrann Mathieu has now made it clear, per Joe Schad of ESPN, that he will be entering the 2013 NFL Draft. After sitting out all this year after being kicked off the LSU football, Mathieu will be back in the headlines, hopefully for good on this occasion.
As I pointed out in this article at Optimum Scouting, he'll have an uphill battle to secure his place in the NFL Draft. While I find it'd be a surprise to see him selected in the Top 4-5 rounds, he likely will be selected by SOMEONE come the 6th or 7th round as long as he can test adequately well at the NFL Combine and doesn't bomb the interviews.
But should the Dolphins be that SOMEONE?
As I said, Mathieu's draft stock likely piques at the 4th-5th round, with after that being where his (new) team will likely select him. The Dolphins could certainly use more defensive back playmakers, and Mathieu certainly fits that bill based on his time with the LSU Tigers.
But Mathieu can't play the cornerback position full time, as he lacks the hips. So he won't cure that need. While he may have some ability to cover slot receivers, he lacks the size to deal with the tight ends in the NFL, and may still struggle with Wes Welker and other slots to deal with.
And as a safety, Mathieu likes the ideal bulk and size to be a full time strong safety, and may not have the speed to be a rangy free safety.
So, with not having a true and set NFL position AND having major character concerns, both what is reported about marijuanna use and what is not in the news, why would anyone, including the Dolphins, want to spend a draft pick on him?
Playmaking ability is always at a premium in the NFL, especially on defense, and you don't get Heisman consideration as a sophomore defensive player without showcasing elite instincts and big play ability. He's worth the risk as a late round draft pick, considering many of those picks aren't locks to make the team anyways.
After a surprisingly successful season thus far, Jeff Ireland may have the job security to take a chance on the Honey Badger, and if it's in the 6th and 7th round, I'd certainly approve. But taking a troubled and position-less defensive back any earlier would be a mistake.