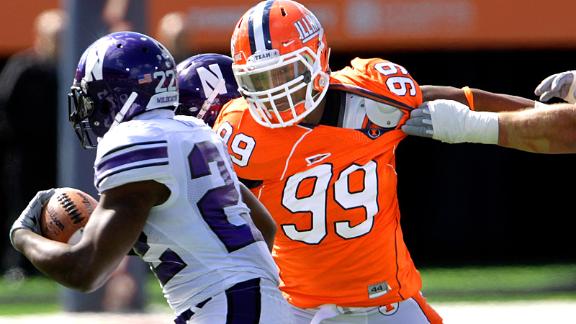 As the Dolphins aren't close to being in the playoff discussion, it's time to look ahead to the 2013 NFL Draft once again. And with 5 picks in the first three rounds, plus the draft board fitting the Dolphins main needs, it could be a chance to add the youth, upside, and talent initially to work with the veterans on this team and be a playoff team in 2013-2014.
Going receiver, defensive back and defensive line heavy, the Dolphins have a chance to add a few playmakers and substantial depth in this class.

1st Round (14th overall)- Robert Woods, WR, USC*
The most obvious  need for the Dolphins, getting a receiver in the first round is of the utmost importance. With none of the top senior or junior receivers likely to be top 10 picks, the Dolphins should have plenty of great options here in the mid-first round. I'll say as of now, Robert Woods is the best junior and overall WR in this class in my opinion as of now, and his ability to extend away from his body, ball skills, and short-mid area route developments to fit the Dolphins system.
2nd Round – Michael Buchanan, DE, Illinois
Depsite Jared Odrick playing a ton this year as the RDE and playing well as of late, he's not a long-term fit at defensive end opposite Cam Wake long term in my opinion, and I'd like to have him in the 3-technique rotation long term. Enter Michael Buchanan, who could go much higher than this by draft time thanks to his elite skill set.
2nd Round – Bruce Taylor, OLB, Virginia Tech
I think the linebacker spot should be addressed early in the 2013 NFL Draft, as I'm not entirely sold on Koi Misi long term, Taylor has been a favorite of mine this draft season, and he can play the inside and weakside linebacker spot. At worst, he provides great depth at multiple linebacker spots.
3rd Round – Markus Wheaton, WR, Oregon State
Even after drafting Robert Woods in round one, the Dolphins still firmly need depth at the receiver position. Wheaton would be a solid value here, and could develop as their true #2 receiver for the future. Woods/Wheaton along with Hartline/Bess could immediately give this team a youthful group that can develop with Ryan Tannehill.
3rd Round – Jordan Poyer, CB, Oregon State
Sticking two Oregon State, the Dolphins should look to add this complete, fluid cornerback from the Pac-12 who's been unheralded at times this year, but has been a big reason for Oregon State's successes this year. Adding Poyer to the Sean Smith, Richard Marshall, and Nolan Carroll mix adds great depth and potentially a mid-late season starter opposite Smith.
4th Round – Omoregi Uzzi, OG, Georgia Tech
Adding more offensive line depth is a must for Miami, and getting a mauling interior presence for the future to develop is a worthwhile depth pick. With Uzzi, Josh Samuda, and Lydon Murtha, the Dolphins should have capable depth to protect Ryan Tannehill, even if an injury occurs.
5th Round – Ray Ray Armstrong, S, Miami (FL)/Faulkner
While it may not be a huge advantage, being in Miami allows the Dolphins to potentially maximize the information they can gather on Ray Ray. The former star Miami safety has somewhat fallen off the map after being ruled ineligible at NAIA Faulkner this year, but from all I've heard personally, he has done everything right this off-season and should be ready to impress in workouts (and the NFLPA game). This would be a fantastic value here in round five, and well-worth the risk.
6th Round – Caraun Reid, DT, Princeton
The first of two small schooler picks, I'm a fan of digging in the non-FBS ranks for unheralded talents, and Reid could be a fantastic value. The quick off the snap, well built interior presence can play the 3 or 5-technique, and may be a lesser version of Jared Odrick, who can add depth on the defensive line for the future.
7th Round – Xavier Boyce, WR, Norfolk State
Similar to Ray Ray Armstrong, Boyce is certainly someone the Dolphins should consider taking a "flyer" on, even if it's just to get him in camp initially and have first practice squad chance. He has fantastic upside, the ideal body type, and has flashed feature receiver ability since transferring from Virginia Tech.
7th Round – Jordan Rodgers, QB, Vanderbilt
The Dolphins should look quarterback with this last pick, because trusting Pat Devlin isn't wise (he's the only other QB besides Tannehill on the roster) and I'm a strong supporter of always taking a QB in the draft. I picked Rodgers mostly because his brother, Aaron, had some success with Joe Philbin in Green Bay. Outside of Rodgers, going with Brad Sorensen of Southern Utah, Matt Brown of Illinois State, or Sean Renfree of Duke all would be fine with me.