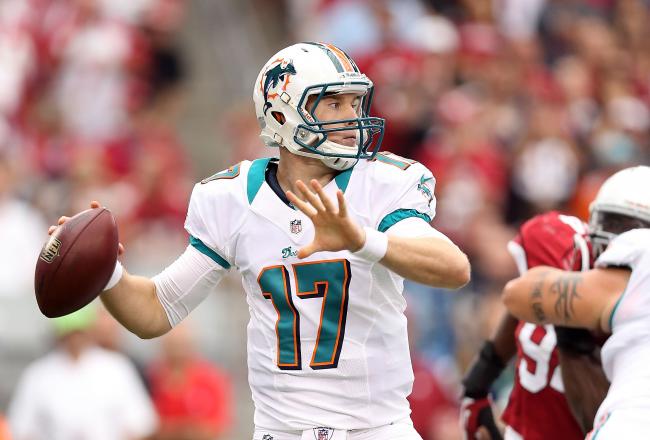 When Ryan Tannehill was picked by the Dolphins eighth overall last spring, a lot of people called it a "reach" pick that was only made because of Miami's desperation for a quarterback.
There was certainly a lot to like about Tannehill; his athleticism, arm strength, and character were all positives. But he didn't have much college experience at quarterback, his accuracy was questioned, and he was a bit of a late-riser on draft boards.
MDD Staff Writer: Garrett Baker

But Tannehill was named the opening day starter over Matt Moore, and is now thirteen games into his rookie season. With this sample size, we can start to look at Tannehill's production and try to analyze where he has been good, where he has been bad, where he has improved, and where he needs more development.
A few things stand out to me when I look at Tannehill. The first and foremost is his dismal TD-INT ratio, which can really be split into two concerns.
The first concern is: where are the touchdowns? Tannehill has attempted 424 passes but has just 10 touchdowns to show for it. In comparison, Cam Newton has 423 attempts but 18 touchdowns. Fellow rookie Russell Wilson has just 353 attempts but has turned 21 of them into touchdowns. Even Mike Vick, who has over 100 less attempts than Tannehill, has 9 touchdowns.
It's hard to pinpoint the exact issue, but his wide receiver corps definitely doesn't help, as there are no real quality red zone targets on the roster. Tannehill also has been spotty on his downfield throws. There have been a number of times, especially in the last few weeks, where Tannehill has had a receiver open down the field but overthrown what would have been almost a sure touchdown. With the addition of a red-zone threat and some work on his long-ball touch, the touchdowns should take care of themselves.
The interceptions are also not that troubling, because half of his interceptions have come in two games, against Houston and Tennessee. Tannehill's accuracy is not great, as he sometimes misses routine throws when he's either late with his decision or sloppy with his delivery.
Growing pains like that are to expected, however, and Tannehill's reads will be quicker and he'll get more decisive over time.
One thing I really like about Tannehill is his ability to extend plays. He isn't necessarily quick, but he has good footwork and is strong enough to move through the pocket and shrug off arm tackles. He is also very good at throwing on the run, as he is able to replicate his arm motion without slowing down. Against Jacksonville, Tannehill showed off his speed as well, rushing for 52 yards, including a couple big gains to keep drives alive. As he matures and becomes more comfortable in the pocket, I'd like to see him use his legs a little more when he sees the chance to slip out of the pocket.
As mentioned earlier, while Tannehill's accuracy can be spotty at times, he also can make tough throws as he puts good zip on intermediate throws and, when he's at his best, can throw a window open instead of waiting for the window to open and then try to squeeze it in. His completion percentage is a respectable 58.7%. For a rookie, with 424 passing attempts to one of the league's worst receiving corps, I would consider that to be better than expected. His percentage is better than fellow rookies Andrew Luck and Brandon Weeden. It's also better than Cam Newton, Jake Locker, and Josh Freeman.
The final statistic worth looking at is QBR, which was created by ESPN to try and get a full measure of a quarterback's effectiveness. Out of the 37 quarterbacks eligible this season, Tannehill ranks 20th with a QBR of 52.5 QBR takes into account passing, running, sacks, penalties, "clutch" plays, and expected production on individual plays to create their formula, which is on a scale of 100. Matt Ryan leads the NFL with a 74.6. Tannehill's score of 52.5 puts him right about in the middle of the pack.
Overall, Tannehill has not exactly been a revelation, but more of a relief for Miami fans, as he's proven that he has the capability to be a franchise quarterback. He's athletic, has a strong arm, understands the game, and looks like a real leader on and off the field.
His improvement will come with the proper coaching, and he really has all the makings to be one of the best quarterbacks in the NFL one day.