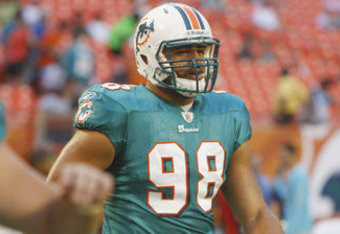 The Miami Dolphins' defensive line has been lauded as one of the best in the league, and while that praise is well-deserved, there is still room for improvement.
Over the first half of the season, the line was bordering on dominant, and was ranked right near the top of the league in rushing yards allowed. Since getting lit up for 37 points and 177 rushing yards by Tennessee in Week 9, they have regressed some. But the line is still the team's strength, and is still in the top 10 in rushing yards allowed.
MDD Staff Writer: Garrett Baker
As the line goes, so does the rest of the defense. Without any pressure on the quarterback, the defensive backs have no chance to hold coverage for too long. Without occupying their blockers, running backs will have gaping holes to run through and terrorize the linebackers. Cameron Wake is, for my money, the best defensive end in the league, and should be in the discussion for best defensive player period. He is an absolute terror for any defensive end. If you don't believe me, ask 49ers tackle Anthony Davis, who got embarrassed by Wake this past Sunday. Wake's combination of speed, lower-body strength, balance, and intensity is unstoppable.
He's morphed from the speed-rusher he was when he came to Miami from the CFL. He's gotten stronger and smarter, and is now dangerous in all situations. With 44 combined tackles, 14.0 sacks, and two forced fumbles on the season, Wake is clearly the team's MVP at this point. Jared Odrick starts as the defensive end opposite to Wake, and is actually Wake's opposite in many different ways. For starters, Odrick has about two inches and roughly 50 pounds on Wake.
Odrick had high expectations being a first-round pick, and has been relatively disappointing thus far. He showed some flashes of promise last year as a part-time starter, getting six sacks and forcing a fumble. But this year Odrick has just four sacks, and has yet to really show that he can be a playmaker. I think he is a good football player, and has not reached his ceiling, but I think he is out of place as a 4-3 defensive end.
Granted, defensive coordinator Kevin Coyle often moves him inside on passing downs, but that's not what should happen with a defensive end of Odrick's stock. Odrick just isn't quick enough to be a threat against the pass, but is effective against the run. To me, he would be better served putting on a little more weight in the offseason and becoming a full-time tackle at the 4-3.
If the Dolphins think Olivier Vernon is ready to start on the outside, then the position is all his. But I would be surprised if that is the case, which is why I am fully on board for the Dolphins to draft a defensive end in the first round of next year's draft. Paul Soliai has been consistent clogging up the middle of the field, but Randy Starks has not. He started the season well, but has really let the team down in recent weeks.
Starks will be a free agent at the end of the season, and I think he will command more money than he is actually worth. He has some talent, but with Odrick, Soliai, and Tony McDaniel on the roster, I think Starks isn't worth resigning at a high price tag. Soliai has a little work to do himself, however, as he turned in a poor performance against San Francisco. Frank Gore had far too much space and time to let the play develop in front of him. Soliai is usually reliable, but last week was unacceptable.
This unit is well-rounded and helped carry the team through the first part of the season. But they have showed some significant weaknesses as the season has worn on. Soliai and Starks have showed signs of fatigue, and Odrick's lack of a pass rush is concerning. There's talent and potential here, but moving Odrick to the middle and drafting another dynamic pass rusher would make the line that much better.