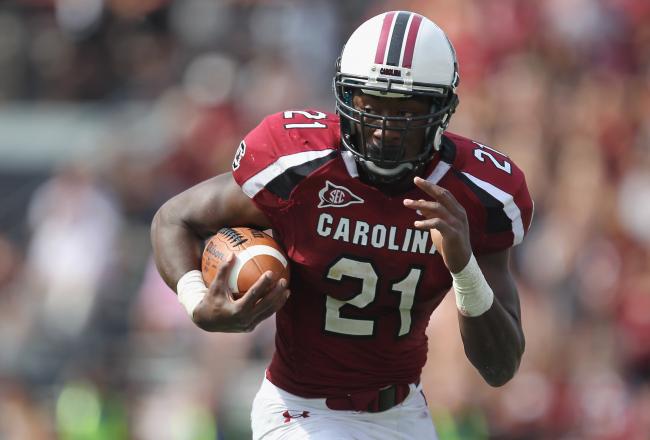 Joe Schad of ESPN is reporting that now-former South Carolina running back Marcus Lattimore will declare for the 2013 NFL Draft. The former Freshman All-American leaves school early despite back to back seasons with devastating knee injuries to both knees.
Still, Lattimore possesses the elite upside, development, polish, and natural athletic ability to still make a strong impact in the NFL in the future. It all depends on his rehab, and if/which NFL team gives him a true shot.
Lattimore burst onto the scene of college football as a true freshman, finishing with 1609 total yards and 19 total touchdowns on-route to a season that should have gotten more Heisman love. A freshman stud before Johnny Manziel even signed with Texas A&M, everyone thought that, like Manziel, we would see much more (and potentially improvement) from Lattimore in the future after his elite start to his college life.
But Lattimore's left knee injury in 2011 (torn ACL and MCL) and right knee injury in 2012 (torn ligaments) happened a little over a year apart, and will lead to serious question marks about his long-term NFL health, including if he'll be the same player he was before both injuries.
However, despite these serious injuries that may cause some players to stop playing football altogether, Lattimore remains a legitimate top three round running back prospect if his second rehab goes well. Lattimore has a fantastic build for a running back, has the nuances of the position (pass blocking, blitz pickup/recognition, pass catching) down as well as any running backs I've seen coming out of college, and is a decisive and balanced runner that consistently pick sup 3-4 yards and at times many, many more.
While I'll begin further evaluation of Lattmore's playing ability, it's likely his "draft grade" won't be determined until the NFL Combine, when NFL team doctors have a chance to further examine Lattimore's injury to his future. Also, teams likely will hope that, sometime before the draft, Lattimore can run for NFL scouts.
If Lattimore can "check out well" at the NFL Combine injury wise, I think Lattimore ends up in the best-eligible running back discussion, with potentially one team looking early 2nd round, probably too high for the McGahee like running back. Still, it's not easy finding a complete running back out of college, and at least one NFL team is likely to take a chance on Lattimore in the Top 64.