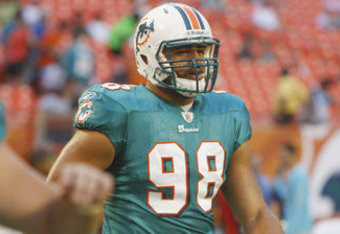 The Dolphins defense is solid enough to compete at a playoff level for another season if they re-sign DT Randy Starks and CB Sean Smith, however, they still lack enough playmakers on defense to create havoc on opposing offenses and truly dominate games enough when the offensive sputters.
If Miami can draft just three players, in three key positions, and develop a couple players from last year's draft class in DE Olivier Vernon and OLB Josh Kaddu, suddenly the Miami defense will have plenty of youth, speed, size, and depth to make impacts on games throughout the season and hopefully into the playoffs.
Miami has enough picks to improve both sides of the ball and can use the majority of them on offense to build around franchise QB Ryan Tannehill, but just a couple more picks on defense could go a long ways towards building a complete 53 man roster that can win games in a multitude of ways, be it offense, defense or special teams, ways that truly elite teams find to win not just regular season games, but playoff games, and hopefully one day a championship. 
MDD Staff Writer:  Chad Pullen
Defensive End
The Dolphins have a chance to solve multiple issues on the defensive side of the ball with a single pick.  Cameron Wake is widely regarded as one of the best pass rushers in football, however having only one on a roster means that teams can slide protections his way each and every game causing him to have to fight through multiple double teams every play he's on the field.  If no one else can win one on one in their matchup, then the QB has too much time, and the corners simply cannot hold long enough before receivers come open.  If Miami decides to take one of the several elite pass rushers entering the draft this year at #12, they would be able to pair him opposite Wake and have more chances to pressure the QB, which will also cover up for any of the depth they lack in the secondary.  Suddenly guys like Jimmy Wilson and Nolan Carroll no longer have to cover for 4-5 seconds, they only need hold their ground for 2-3 and they should be in good enough position to make a play on the ball, or the QB has been sacked.   There should be plenty to choose from this year and as the Giants have shown over the years, you can never have too many Defensive Ends on your roster.  DE's in this year's draft include:  Bjoern Werner – Florida State, Barkevious Mingo – LSU, Sam Montgomery – LSU, Dion Jordan – Oregon, Alex Okafor – Texas, Damontre Moore – Texas A&M, Ezekial Ansah – BYU, Cornellius Carradine – Florida State, and Michael Buchanon – Illinois.
Cornerback
Even if the Dolphins select a pass rusher in the first round which should help the secondary, that doesn't mean the Dolphins shouldn't also upgrade the secondary while they're at it.  With an extra second and third round pick at their disposal, they should help deepen the defense by also drafting a corner in either round, to further improve the overall defense.  Miami has been solid over the past couple seasons, but not close enough to elite like the Steelers or Ravens have typically been.  Starting the draft off by taking a pass rusher and corner could be the step the Dolphins need to get over that hump.  If Miami can come to terms with Sean Smith and get Richard Marshall back healthy next season, adding another solid QB should limit the field time the Dolphins lesser corners see the field.  If they cannot re-sign Smith, then corner may become the most pressing need on the team, even more so than receiver.  The corner position is not deep this season, a factor that may influence the Dolphins decisions.   Some that will be available are:  DeMarcus Miliner – Alabama*, Johnthan Banks – Mississippi State, David Amerson – NC State, Xavier Rhodes – Florida State, Desmond Trufant – Washington, Jordan Poyer – Oregon State, and Logan Ryan – Rutgers.
Safety
Another way to improve the secondary would be to upgrade and deepen the Safety position by trying to replace free agent Chris Clemons in the starting lineup.  Clemons was decent for the Dolphins starting opposite Pro Bowl caliber S Reshad Jones, but there is a chance the Dolphins could land a Safety from a deep class this year and possibly move Clemons to the bench for depth if he decides to re-sign.  Doing so would give the Dolphins multiple options in their nickel and dime packages, as well as deepen their special teams units as Clemons was very solid in previous years before he became the starting Safety.  The biggest weakness the Dolphins have had in recent years has been their lack of turnovers, and finding someone who can create more would be very beneficial to the Dolphins both on defense, and the offense giving them some short fields to work with.  The Safety class this year features :  Eric Reid – LSU, Robert Lester – Alabama, Kenny Vaccaro – Texas, Matt Elam – Florida, Bacarri Rambo – Georgia, T.J. McDonald – USC, Shawn Williams – Georgia, and DJ Swearinger –South Carolina.