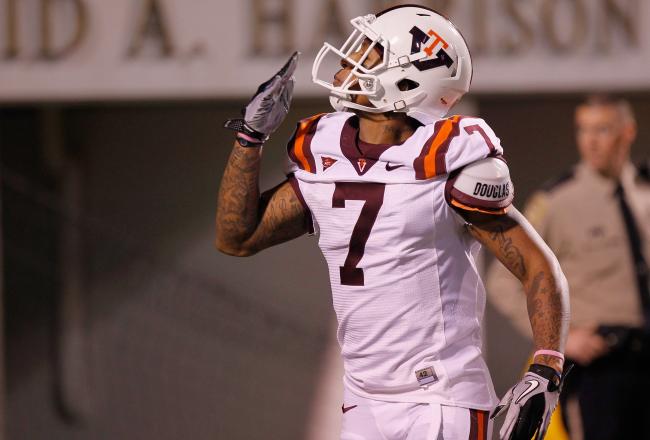 The Shrine Game week is upon us, and there's plenty of talent to evaluate here for the entire NFL as well as the Dolphins.
With receiver, defensive line, and defensive back talent in full force this week, the Dolphins could find a few future starters at this game as well.
While I've heard that they'll be sending more scouts to the Raycom All-Star Game (preview here), the Dolphins will still have 1-2 representatives at this game, and here's who they may be checking out.
MDD Lead Editor: Eric Galko
Stars of the Game
Matt Scott, Arizona
-With a loaded upside and the natural talent to be both an impressive runner and passer, Scott has the foot speed, fluid athleticism, and a big arm. His footwork (slow in dropback), release (can get quicker), and vision (struggles reading coverages downfield) are issues, but his high velocity, confidence, and athleticism should make him an awfully intriguing prospect this week.

Zac Stacy, Vanderbilt
-Built with a strong lower half, the ability to adjust his body through traffic, and his use of blockers combined with vision through the hole, and Zac Stacy may be the most pro-ready running back here at the Shrine Game. Will he lacks great speed and still is a bit raw in pass protection, his lower body strength and body control, and transitions laterally to attack openings and get skinny through the hole could make him this year's Alfred Morris-type value in zone blocking scheme.
Marcus Davis, Virginia Tech
-Easily the most talented receiver on this roster, and likely the best receiver going into this game, Davis is a special athlete with ideal size, extension away from his frame, and subtle ability to both separate and to evade tacklers after the catch. Built well across his body, he shows willingness as a blocker, decisive steps on the routes he has developed, and the high pointing ability that's necessary for long receivers. He does have some concentration issues and lacks great upper body control in his route break (especially short), but has the upside to potentially be a 2nd rounder. 
Terron Armstead, OT, Arkansas Pine-Bluff
-Before this week starts, LEARN THIS NAME Armstead has the size, length, kick slide, body control, and athleticism NFL teams want in a left tackle prospect, and he reportedly can run in the 4.7-4.8s in the forty yard dash. He can play over-finese at times, and power rushers may give him some issues in pass protection (especially facing Mike Catapano of Princeton this week), but there is certainly the chance that Armstead works his way into the 2nd round with an impressive week.
Manase Foketi, West Texas A&M
-The former Kansas State offensive tackle, Foketi has overwhelming size and hand power, along with a powerful anchor to set and drive on the outside. In the run game, he readjusts his hands well, has a strong punch, and pivots and redirects well. The focus on him will be his kick slide and ability as a pass blocker. He controls rushers coming across his face and adjusting his hands, but in college, he was bellied out pretty wide, making his kick slide not have to get as much depth. We'll see if he can adjust closer to the line against these speed rushers.
Travis Johnson, DE, San Jose State
-While a bit unheralded in the media, Johnson has elite strength in his hands and upper half, and collapses the pocket as well as adjusts after initial contact very well. His ability to drive his inside shoulder inside, and adjust after that initial hand placement by the tackle is maybe his best quality, and he rarely ends up on the ground or in poor position to make a tackle. While he lacks great athletic upside and is a bit slow laterally, he's an effort, powerful, and balanced edge rusher.

DeVonte Holloman, South Carolina
-The safety/linebacker 'tweener at SC this year, Holloman made the transition easily, and shows the ability to stack and shed, close quickly on the ball, and getting downhill in the open field. We'll see if he can adjust in coverage and show the same polish as the other linebackers here, but he should have the best chance to stand out this week.
Terry Hawthorne, Illinois
-Built well as a cornerback, Hawthorne has good speed and burst in the open field to transition upfield against receivers as well as coming up in the running game. Hawthorne is a strong tackle finisher who works hard in the run game and has experience attacking off the edge. Hawthorne has great upside as a cornerback thanks to his run defense ability and physicality on the outside
Shamarko Thomas, Syracuse
-An active, aggressive, and fluid strong safety prospect, Thomas has shown just about everything you need to see for a safety prospect. He's flashed the ability to play man coverage in the slot, press coverage experience, and drops to a shorter and deeper zone this season. He's not developed in really any of those areas, and his pass coverage could be improved in making more efficient zones and in transitioning receivers in zone pick-up. Still, he shows the ability to defend the run very well, is explosive upfield, and shows the tools to develop as a safety at the next level.
Zeke Motta, Notre Dame
-A perfect fit in a Cover 2 defense, he comes downfield with great burst thanks to a strong lower half and powerful yet balanced and decisive cuts. He could be a bit more patient in attacking upfield and lacks top end range, but his NFL build, experience in Cover 2, versatility to play either safety spot, and his tackle finishing ability at the 2nd/3rd level could make him a mid-rounder.
Potential Dolphins to Watch
Collin Klien,, Kansas State
-This may be Klien's final chance to prove he's more than just an "athlete" at the next level. Possibly regardless of how he plays this week, he should get an NFL look, but having the skills as a quarterback could be what makes teams curious. While the "Tebow experiment" didn't work, having a battering ram quarterback who can throw a little bit still has value in today's NFL. If Klein can show improvement in his mechanics and be consistent in shorter breaking routes, he may work his way into a "developmental" role as a quarterback for some team.

Keenan Davis, Iowa
-With ideal size and length, Davis works very well in the mid field, with route definition and the ability to adjust in traffic well. While he doesn't work well on the outside downfield, doesn't use his body in short routes, and lacks great open field running moves, his ability to adjust in traffic, extension away from his body, and mid-field work could make him an intriguing west coast receiver.

DC Jefferson, Rutgers
-A one-time quarterback, Jefferson's size and flashes at Rutgers as a pass catching tight end make you want to see more whenever you watch this team. However, Rutgers refused to consistently utilize him in the passing game, and only gave him a handful of quick 2 yard hitches and the occasion redzone target inline. However, instead of wasting way as an under-utilized tight end, Jefferson developed into a fantastic inline run blocking tight end, with the ability to establish a base and pass protect as well. He'll impress athletically this week as a pass catcher, and with that, could become a coveted, complete and versatile tight end.

Mike Catapano, DE, Princeton
-A physical edge rusher, Catapano thrives as an inside leverage power rusher. He has great inside arm driving ability, and utilizes hand placement, strength, and activity to collapse the pocket on the outside. Also, he shows the ability to bend and control the edge (though not a speed rusher), and has the body control to adjust and get skinny on the interior, with flashes of being able to stunt and work inside as well. A complete strong side rusher, he should thrive against many of the tackles here.
Caleb Schreibeis, DE/OLB, Montana State
-The Buck Buchanan award winner (give to the FCS's best defensive player) has great athleticism lateraly and explosivness in transition to go along with his length and burst through his hips upfield. Possibly making the transition to a 3-4 linebacker at the next level, he'll need to utilize his flexibility and bend around the edge as well as utilize his athleticism. This is a big stepping stone for the small schooler who hasn't faced many talented offensive tackles.
Keith Pough, Howard
-No question the player I'm most excited to evaluate this week is Pough, who I've watched plenty of over the past two productive season's he's had at Howard. Asked to do a bit more 4-3 linebacker reads and adjustments this year (as well as being the focal point of offensive gameplan by opposing teams), Pough can be a devastating outside rusher, showcasing elite body control, adjustment in pursuit, and the range to finish tackles all over the field. He should be a fan and media favorite, and could shoot up to the 4th round or higher after this week.
Robert McCabe, Georgetown
-A bit thinly built for a linebacker, McCabe actually moves and looks the part of a safety playing on the inside, a potential transition he may need to consider initially if the ILB doesn't work out. He does have great body control laterally, positions his body for gap control/blocker engagement as well as any linebacker in this class, and outside of playing wider to control gaps, he's as polished as they come at linebacker. His vision, decision making, instincts, and quickness for range as a linebacker could make some team really fall for him, and I'd be surprised (if he plays well this week) if he fell out of the draft as long as he tests fairly well at the NFL combine.
Rod Sweating, Georgia Tech
-A savvy cornerback, Sweating has done a great job utilizeing his smooth transitions and reactions in coverage to really impress over the course of the past two years. Possessing good fluidity and length as a cornerback, Sweating makes the most of his talents and works hard to stay tight on his receivers and adjust on the fly well.