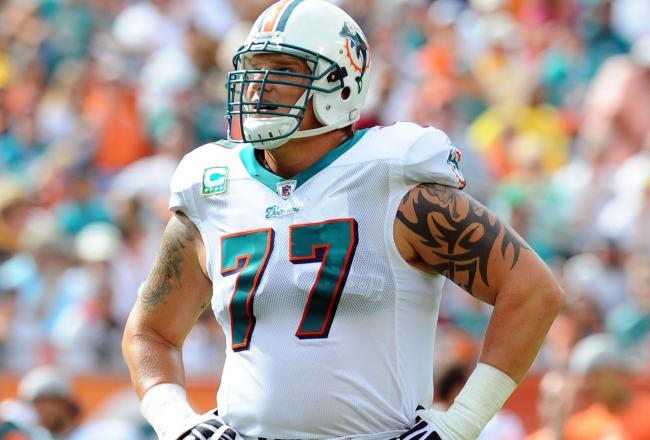 A year ago today I would not have believed these words, but right now I believe them to be true: the Miami Dolphins will be better off by letting Jake Long go and releasing him to the free agent market. At this stage, the Dolphins are in position to move on without him.
Long has been the team's leader and default face of the franchise ever since being selected first overall in the 2008 draft. But he is not the player he once was, and his monetary value will far exceed his actual value from here on out.
The Dolphins are now building around quarterback Ryan Tannehill, the new face of the franchise and team leader. He started every game this past year, his first in the NFL, and looks to have all the makings of a long-term starter.
MDD Staff Writer: Garrett Baker
As fellow staff writer Chad Pullen so adequately explained already, Long has "[a] bad back, a torn triceps, [and] a balky knee [which] have all slowed Long down and he's become less dependable than he was when he was an All Pro early in his career". That pretty much sums up the entirety of the argument for me.
Why pay big money to a tackle who has dealt with significant injuries, is likely to deteriorate as time went on, and was having a poor season even before he got hurt? Especially when Miami could finally have a lot of cap space to fix other spots via free agency, and also have five picks in the first three rounds of the draft, what sense does it make to gamble with a big contract for a player on the decline?
Right now, the Dolphins are building. With their five picks in the first three rounds, they will continue to get younger. If they are going to spend a lot on one player, I would much rather it be one of the top free agent receivers, like Greg Jennings or Dwayne Bowe.
With the emergence of Jonathan Martin, last year's second round draft pick, the Dolphins actually have a bit of flexibility at tackle because Martin has shown proficiency on both the right and left sides.
This means that the Dolphins can target someone in the draft, preferably in the second round, where they have two picks and could take advantage of the relatively deep tackle class this year.
Luke Joeckel, Eric Fisher, and Lane Johnson should all be first round picks. But guys like D.J. Fluker, Oday Aboushi, Justin Pugh, and Dallas Thomas could be right in the mix, and the Dolphins would be able to evaluate each and see which fits best into their scheme.
By taking one of those players, they would be getting a young, healthy guy at a fraction of the price as Long. And if Long's performance last season was any indication, those guys may not even be a step back, production-wise, from Long either.
There's no questioning that Long was a huge part of the franchise, and he should be appreciated here for everything he did. He worked hard, was a good leader, and was one of the best offensive linemen in football. But times change, and Long just doesn't fit into the equation any more.