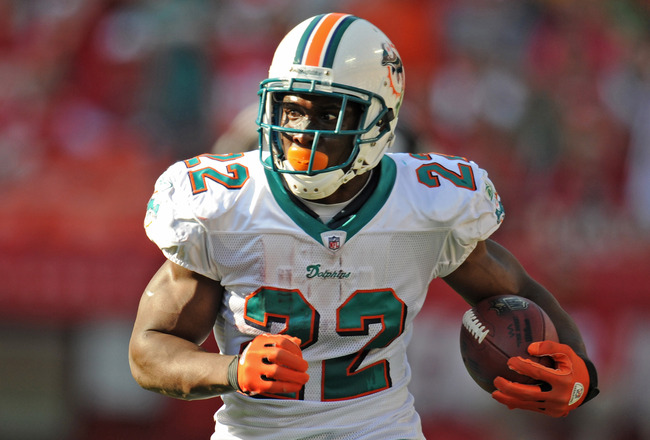 GM Jeff Ireland has made several moves since taking over the roster building duties full time in 2010.  He's hit on some picks, missed on some, made a decent free agent signing, whiffed on some too.  One of the best moves he has made however was trading for RB Reggie Bush.  After making that deal with the Saints, Reggie was then signed for two years, ten million dollars to be the featured back down in Miami.
Questions about whether Reggie could be an inside runner full time were quickly answered as Bush put forth two of his best seasons the last two years and remained relatively healthy in doing so.  Now it is time to decide if the Dolphins should reward Reggie with a bigger contract as he enters his last years, or let him go via free agency and start over at the position.  
MDD Staff Writer:  Chad Pullen
One question that can no longer be asked is Reggie's dedication to his craft.   Bush was a tireless worker for the Dolphins, coming in early, staying late and going above and beyond on every level of training and working out to get in the best shape of his career.  He has been a solid leader for the team, and set the standard high for the rest of his teammates to try and work as hard as he does.  If contracts were based solely on hard work and effort, Reggie would be worth every nickel but that's obviously not the case.
Running backs have proven to have limited shelf life's in the NFL.  Most are on their last legs by the time they reach age 30 and Reggie is not far off from that age.  While he does not have the mileage at this point in his career as most full time running backs do, his speed will start to lessen each year going forward, and the Dolphins cannot afford to sign a large deal and then not receiver the production that contract would dictate.   Miami has also set themselves up in good position by having depth at the RB spot for the day that Reggie's contract does come up.  Currently Miami has Daniel Thomas and last year's fourth round pick Lamar Miller waiting in the wings in case the Dolphins decide to part ways with Bush.  The Dolphins can also add depth to the position either in free agency or through the draft in the latter rounds.
If Bush were to keep his salary demands low and merely ask for an extra year or two on a deal, the Dolphins could work with that and keep the position deep and explosive with Miller on the bench.  If Reggie wants to be paid in a similar fashion to Matt Forte of the Bears, or Arian Foster of the Texans, the Dolphins would have no choice but to turn him down and move forward without him and let another team roll the dice with that size of contract for a RB.  Reggie is an explosive player, and has been a tremendous leader for the Dolphins, and they would surely be happy to have him provided  he doesn't try to break the bank and cash out after his two best seasons, which are now safely behind him.
Contract Prediction:  $25 million over 4 Years
Dolphins – Sign or Let Go:  LET GO